Ethiopia
Wolisso The Digital Unify Program of STMicroelectronics Foundation has achieved a new positive result in Ethiopia and more precisely in Wolisso.
The Foundation has set up a computer learning center in the Saint Gabriel Primary School, run by Daughters Mercy and of the Cross in the town of Wolisso.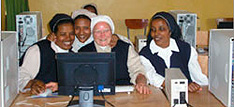 The lab will allow the delivery of Computer Literacy classes as per the Digital Unify program to school staff, students and the local community.
The Computer training center consists of 11 PCs, hardware and software, a printer and projector, the internet connection will be WiFi via satellite.
One computer will be equipped with webcam for didactical activities and web conferences from which all the students in the lab can benefit.
The lab will provide computer literacy and training to school staff and students during school hours and to the local community in the afternoon and evenings.
In the week-end the lab will serve as open local kiosk.
Important partners for the implementation of this project are the MLFM (Movimento per la Lotta Contro la Fame nel Mondo) and METID (Metodologie e Tecniche Innovative per la Didattica) that have already cooperated with us in carrying out a our mission in Congo.
DU Ethiopia program has trained over 2550 trainees as of Q4Y12. In 2013 the program has officially ended.